When I was a little girl my grandmother was crippled with rheumatoid arthritis. She used a walking stick and walked very slowly with very small steps. Her eldest son, Gerald, was born in the year 1899. The war started in 1914 and as Gerald became 15 he decided he wanted to join one of the Armed Forces to fight the Germans. So he did just that; lied about his age and signed on in the Navy. When my grandmother learned what he had done she was furious that the Navy had accepted such a young person. She apparently went along to the Recruiting Office and I have always had a picture of her hobbling as fast as she could and waving her walking stick in the air! Apparently she extracted some sort of a promise that he would be trained but would not take part in Active Service until he was older. But with the best of intentions by one Naval officer what promises can be kept for one individual during wartime? So, at the age of 16 years, along with his pals he died when HMS Black Prince sank with all hands at the Battle of Jutland.
Another family story was that he shouldn't have died! I have read some of the history of the Battle of Jutland, and it appears HMS Black Prince was hit and crippled early on by German gunfire. The Captain was ordered to return home. But, instead, he decided he wanted to fight on and followed the fleet at reduced speed. Of course, the ship was a "sitting duck" and when spotted by the Germans later was hit and sunk.
A photograph of Signal Boy J42460
Gerald Acland Blackmore
Born: 24th December 1899
Died: 31st May 1916
A postcard of H.M.S. Ganges where Gerald did his training
An embroidered silk postcard of the Royal Navy with the words Loving greetings
| | | |
| --- | --- | --- |
| Postcard No.81 of H.M.S. Black Prince by Gale & Polden of Aldershot | A postcard of H.M.S Black Prince in the Kingsway Real Photo Series | A sepia real photo postcard of H.M.S. Black Prince with no mention of publisher |
The first postcard also has information about the ship - Armoured Cruiser of 13,550 tons. Cost £1,150,000: Length 480 feet: Beam, 73 1/2 feet: Draught, 27 1/2 feet: Speed, 22 1/2 knots. Armed with Six 9.2 in.: Ten 6 in.: Twenty Small Quick Firing Guns, and Three Torpedo Tubes.
No publisher mentioned for either of these photographic cards - the first one is titled Coaling ship H.M.S. Black Prince and the second one has the words A Happy Christmas from No.16 Mess written on the side of a box. Probably both were taken by the ship's own photographer for the lads to send home to their families and friends. However, before Gerald's time aboard!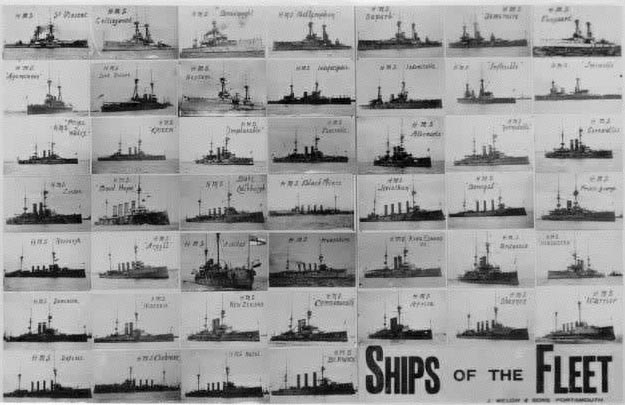 There are a number of postcards similar in style to this with rows of ships. This one shows H.M.S. Black Prince right in the centre.
These two identical photographs of the ship do not have the same titles! HMS Black Prince in a gale from Vigo to Dover Dec 10 and the other HMS Black Prince in a gale outward bound Oct 1912.
These three cards depict the Battle of Jutland. All are by Abrahams of Devonport. The first shows Valiant, Barham and Warspite in action. The second shows HMS Tipperary, another of our ships that was sunk. And the third one is titled " The Defeat of the German High Sea Fleet by the British Grand Fleet at the Great Battle of Jutland. May 31st - June 1st 1916".
Boy Cornwell winning the V.C. on H.M.S. Chester, Jutland Battle.
A coloured card, Great Naval Deeds of the War, Series II. Also on the reverse is printed "True 'till Death." Boy (1st class) John Travers Cornwell, V.C. Standing by his gun on H.M.S. Chester, during the Jutland Battle, May 31st, 1917. (printing error!)
A sepia card of the Jack Cornwell V.C. Memorial
"Jutland Hero"
Another "Action" postcard of the Battle of Jutland. A Valentine's postcard this time.
Britain's Bulwarks in Action, May 31st, 1916
Sinking of German Battle Cruiser
On the reverse of the Valentine's card, within a heavy black border is the following:
In Memoriam of Our Gallant Sailors
Who gave their lives in the cause of freedom
On May 31st - June 1st, 1916,
in The Biggest Naval Battle Ever Fought.
Love for the Brave
The four-line poem is at the end of the page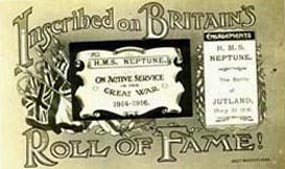 Inscribed on Britain's Roll of Fame. This card refers to H.M.S. Neptune at the Battle of Jutland. I would like to have a similar card with H.M.S. Black Prince printed on the card, but have had no luck in finding one so far.
The first and third cards are photographs I have taken of the War Memorials where Gerald's name is inscribed - Tottenham and Southsea. The card in the centre is Jutland Day at Portsmouth War Memorial, May 31st
| | |
| --- | --- |
| This card shows the "HMS Black Prince Cot supported by the Ship's Company" above a photograph of the ship. The cot is in "The Queen's Hospital for Children, Hackney Road, London, E.2. Cot formerly supported by the Ship's Company of H.M.S. Black Prince, which was lost with all hands in the Battle of Jutland, and now maintained by the friends and relations of the officers who thus died for their country." It goes on to mention annual expenditure, numbers of beds and out-patients, etc. | |
"Our Cat. H.M.S. Black Prince"
has been written on the back
of this card of puss in a diver's helmet.
Nor should their deeds be e'er forgot,
For noble men were they:
To freedom and to country true,
In danger and in death.