Artists from Bermuda
Ethel Tucker and C.F. Tucker (Kate)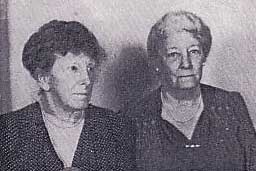 The Misses Catharine and Ethel Tucker
1879-1970 1874-1962
"Tomorrow comes soon enough, today is delightful, and one is still enjoying yesterday."
Extract from the introduction to their book 'Glimpses of Bermuda'.
No one hurries in Bermuda. It must be a very beautiful country if Ethel Tucker's and Catherine Tucker's cards are anything to go by. It lies approximately 659 miles to the east of North Carolina, U.S.A. It was first settled in 1609 by shipwrecked English colonists headed for Virginia. Tourism plays an important part in the island's economy. The Bermudian dollar and USA dollar are 1:1. I would love to visit Bermuda and see for myself - maybe I will one day!
If you click here you will find a website showing the descendants of John Jauncey starting with his birth in the 17th century and his marriage to a Bermudian. Ethel and Kate are shown in No.72. They were third and fifth in the family of Robert Richard Jennings Tucker and Leonora Mary Tucker (nee Smith). It was from their mother that they inherited their artistic talent. Ethel studied at the New York School of Applied Design for Women and Kate joined her to study art too. They worked for the New York branch of Raphael Tuck of London so it seems strange to me that their first postcards were printed in Germany and not by Tuck.
After 11 years in New York they returned to Bermuda where they opened the Colony's earliest souvenir and gift shop, named it The Little Green Shop, and it was here that they sold their first postcards. Their tea shop named The Little Green Door was a meeting place for many well-known people - Mark Twain, Rudyard Kipling, Eugene O'Neill and others.
In 1958 the Tucker sisters decided the time had come to wind up their business. Generations of tourists had visited The Little Green Shop, and Bermudians themselves regretted that final closing on February 22, 1958. But the two ladies still continued painting!
I started collecting the postcards of Ethel and Kate (as she was known) in 2004. They are attractive and I decided I would like to find as many as I could. The cards seemed to be more easily available from the USA than from dealers in England - probably because the Americans visited Bermuda long before there were package holidays from England. The higher numbers are more difficult to find than the lower, although I am still missing nos. 6, 42 and 49 of the lower ones. Then, after a while I thought I would like to find out more about these ladies - where they were educated, went to Art College, when they started to use Salmon of Sevenoaks as their printer, etc.. At first I scoured the internet and received many kind replies which helped me to know more about them.
I belong to the Salmon Study Group and I was particularly interested in their connection with Salmon of Sevenoaks, Kent, as the printers for their postcards. At first they had their paintings printed as postcards by a German company and these are not easy to find. German companies had an excellent reputation for their printing techniques and many British publishers went to Germany to have their cards printed. However, after World War I Ethel and Kate decided to use Salmon and this relationship lasted for the rest of their lives.
Salmon printed cards numbered 1 to 100. Of these there are three which are apparently non-existent (nos. 8, 68 and 69) and one (no.21) was painted by H.Wood. I have not been able to find out anything about this artist, so if anyone reading this can help I would be delighted to hear from you.
The Salmon cards were reprinted many times. The first cards were printed without a postcard back but they are not of the undivided back era (the Golden Age) which was during the latter years of the 19th century and early in the 20th century. Then the Post Offices around the world allowed writing as well as printing to be on the reverse. Throughout the years the back has changed a number of times, firstly with a simple Copyright & Published by E & C.F Tucker, then a number in the 100 series was added, then they were given a divided postcard back with varying designs for the dividing line, and later there was a computer number. In all I have so far found 15 different backs. Most of these postcards were not used to write home saying "Having a great time - the weather is lovely, scenery beautiful". I imagine they were mostly bought as lovely souvenirs to take home. I have very few used cards in my collection.
The postcards themselves have a number of different fronts. There are at least two types of font used, sometimes titles have the word Bermuda included, others not. Titles can be found at the bottom of the postcard, the top, on the reverse, or without title at all. I also have one that has been printed to look like an oil painting. Why Salmon did this for watercolour artists one can't guess but it also happened for other artists of the same era.
Ethel and Kate also published books of their paintings - I have one entitled "Glimpses of Bermuda" with a dozen pictures of their work. There is another one entitled "Bermuda Scenes" and maybe others. They also published books for other people, e.g. May Middleton's "Flowers of Bermuda" which contains 12 of her paintings - Bermudian flowers rather than Bermudian views. All were printed by Salmon.
Can anyone help please? The postcard below is no.2 in the Salmon series, but here it has no title. It is fractionally smaller than the Salmon cards. Its back is certainly not Salmon. Therefore is it one of the earlier German printed cards? And does anyone know who were the German printers?
Now a query about the following postcard. It is titled The Little Green Door and there are three others with the same title - nos. 25, 26 and 27. These three are vertical and I have them all. This one does not seem to be in my checklist, is horizontal and does not have a number on the reverse. Does anyone have a number for it?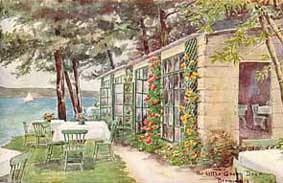 So where are Ethel and Kate's paintings? Many have remained within the family. We know that when the Prince of Wales (later Duke of Windsor) visited Bermuda in 1921 he bought some and when he returned home his mother, Queen Mary, liked them so she bought some too. They were thought to be at Kensington Palace. However I now know that four are at Sandringham House, Queen Elizabeth II's residence. How do I get invited for a cup of tea to see them?! It is not known what happened to those belonging to the Prince of Wales - possibly because of the abdication - it could be they are somewhere in France. Recently I visited the Louvre and there was a little box donated by the Duchess so she may have donated paintings somewhere too.
The following are the titles of those paintings at Sandringham House but none seem to have been printed as postcards:-
C.F. Tucker - "An Old Home, Paget Bermuda", 1924.
C.F. Tucker - "Scott's Hill, Somerset, Bermud", 1924.
C.F. Tucker - "Pergola with sea view".
C.F. Tucker - "Rhododendron bordered road leading to sea", 1924.
The Bermuda National Gallery has some paintings. I have been given permission from the Bermuda National Gallery to print their text panel that is used with the Tucker sisters' work in the gallery. Please click on the icon.


I believe the Masterworks Foundation in Bermuda also has at least one painting. They brought an exhibition in 2004 to the National Gallery in London but when I inquired it didn't include any Tucker paintings.
I have also been given permission by the Bermuda Publishing Co. to print an article from the Bermudian Magazine written by Terry Tucker. It makes fascinating reading and tells you about the lives of these two remarkable ladies. Please click on the icon.


You can see more postcards, a checklist and postcard backs by clicking on the respective icons below.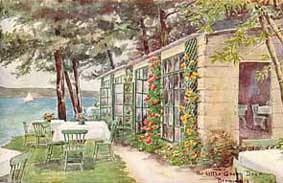 Postcards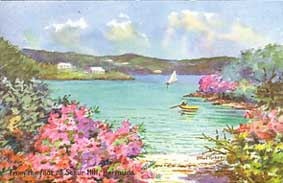 Checklist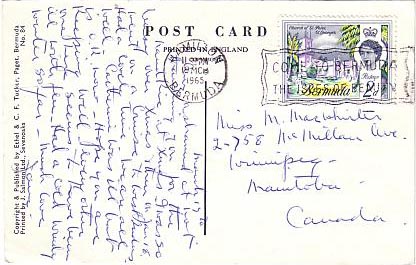 Postcard backs
I am still missing the following numbers of the Tucker Salmon postcards - 8, 68, 69, 73, 85, 88.
(updated 15th June 2007) I would also be interested to hear of any other cards by the Tucker sisters. So if you can help do please write. Or write anyway!


If you are interested in Salmon postcards - photographic, or their artists - A.R. Quinton, Essenhigh Corke, C.T. Howard, etc. you might consider joining the Salmon Study Group. You can find out more about it by clicking here.