Family Tree Of
Bruno
Bruin
Elizabeth
The Teddy Bears' Picnic
If you go down to the woods today, You're sure of a big surprise
If you go down to the woods today, You'd better go in disguise
For ev'ry bear that ever there was, Will gather there for certain, because
Today's the day the Teddy Bears have their picnic.
Ev'ry Teddy Bear who's been good, Is sure of a treat today.
There's lots of marvellous things to eat, And wonderful games to play
Beneath the trees where nobody sees, They'll hide and seek as long as they please
'Cause that's the way the Teddy Bears have their picnic.
If you go down to the woods today, You'd better not go alone
It's lovely down in the woods today, But safer to stay at home.
For ev'ry bear that ever there was, Will gather there for certain, because
Today's the day the Teddy Bears have their picnic.
Picnic time for Teddy Bears, The little Teddy Bears are having a lovely time today
Watch them, catch them unawares, And see them picnic on their holiday.
See them gaily gad about, They love to play and shout;
They never have any cares;
At six o'clock their Mummies and Daddies, Will take them home to bed,
Because they're tired little Teddy Bears.
This is my favourite song and I often hum it to myself.
| | |
| --- | --- |
| | Here is a picture of my two young cousins, Lorna and Jane on a picnic. |
I was born on January 1st 2004. Like race horses us bears always have a birthday on January 1st whenever in the year we were born. I can't remember the exact date anyway.

This is a picture of me on my passport and my identity card.
My Human Mother (HM) named me Elizabeth but my Human Father (HF) always calls me Bruno. I feel a little bit like that song A boy named Sue! I have asked HM to take me to meet my birth mother and she says she will take me to Whipsnade Zoo, but that may not be for a while as she has to have an operation. I shall be going into hospital with her, but I shan't have to have an anaesthetic as I shall be needed to cuddle her lots and get her well again. I shall also have lots of cuddling to do with my HF while HM is in hospital. However, I am very worried about going to a hospital. I saw on the television recently that a bear walked into a hospital in Canada and he was killed straightaway. So I am concerned. I don't want to be killed like that. But HF keeps telling me we don't have the death penalty in England so I will be alright. I just hope he is right because I don't want to go into prison either. BUT I am STILL nervous. I am also worried about the MRSA virus which is in the Heart Department of the Southampton Hospital, but again HF says it doesn't affect bears, but I still worry about my HM.
| | |
| --- | --- |
| I have a picture of my birth mother from the internet which will have to do until we can go and take our own photograph. | |
My Grandma used to talk to me about all my relations, so as we aren't sure when we can get to Whipsnade I thought I would write about bears in general and then tell you about some of my relatives who make up my family tree. I'm a bit hazy on dates so a real family tree is a bit out of the question.
| | |
| --- | --- |
| | First of all there are Polar bears who can live 20 to 30 years in the wild and the oldest polar bear in the Arctic lived 32 years. The oldest known polar bear in a zoological park lived 41 years. |
| | |
| --- | --- |
| Next come Brown bears and usually one to four babies are born but two is most common. Cubs remain with their mothers for at least two and a half years. | |
| | |
| --- | --- |
| | Then there are Black bears who can live 21-33 years or more but unfortunately very few adult bears outside of national parks die of natural causes. This picture is part of a frieze outside Bristol Zoological Gardens. |
| | |
| --- | --- |
| There are two Spectacled bears in Chester Zoo. They are the second smallest bear in the world and come from the Andes mountains in South America. | |
| | |
| --- | --- |
| | In this world there are live bears and cuddly toy bears. Mainly the live bears are female and the toy bears are male (but not always so). |
Now for my family.
Our family started in foreign parts, but we are now all British through and through although just occasionally some foreign bear creeps in when one of us goes on holiday, e.g. Paddington Bear who comes from darkest Peru.
I am descended from Winnie the Pooh, Paddington Bear and Rupert Bear on the male side.
Winnie the Pooh is a story written by A.A. Milne for his son Christopher and was later made into a film by Walt Disney. Paddington Bear stories are written by Michael Bond. Rupert Bear appears in the Daily Express and has done so every day since 8th November 1920.
On the female side I have a lot of antecedents who have been brought up in zoos. Although they didn't always like not being able to roam they were happy not to have to go hunting.
The first two were photographer's models and lived in London Zoo at the beginning of the 20th century. The photographer was a man named Lucien Levy, he lived in France but came to England to take photos of lots of animals in the zoo and other places too. The bear on the left is my grandfather and the other is an uncle and the brown one is a distant cousin. The next two were artist's models and also lived in London Zoo probably in the 1920s. They were painted by an artist named Mr. C.T. Howard. The two white bears are both uncles and the brown bear is another cousin. All four pictures are postcards which were on sale at the Zoo so these relatives earned the cost of their keep. The last one is named Sam. I am not sure of his relationship, he may have been a great friend of my grandparents, and I have a cousin who is named after him.
When I mention aunts, uncles, grandmas and grandpas, they could have any number of greats in front of them and cousins could be any number of times removed or be called second, third, fourth, etc. so I won't use those words.
| | |
| --- | --- |
| My earliest antecedent that we know about is Sir Epictetus, my Grandpa Epi, and he would fill a page of greats before his name. He was a great philosopher and apparently he would say that there were two faults far graver and fouler than any others - inability to bear and inability to forbear, when we neither patiently bear the blows that must be borne, nor abstain from the things and the pleasures we ought to abstain from. If a man will only have these two words at heart and heed them carefully by ruling and watching over himself, he will for the most part fall into no sin, and his life will be tranquil and serene - BEAR AND FORBEAR. | |
| | |
| --- | --- |
| | Another wise bear was Baloo. An author named Rudyard Kipling wrote The Jungle Book. It is the story of a boy named Mowgli who was brought up by wolves and Baloo. The story was made into a film by Walt Disney. My mother used to talk about him a lot and she thought Baloo was the wisest bear in the world. |
| | |
| --- | --- |
| Closer to home is my little sister Angela. She doesn't go out much as she gets sick in the car and prefers to stay at home and play with her friends. I like going out in the car and reading a book about bears. | |
| | |
| --- | --- |
| | I have another very clever person in my family tree. She is an astrologeress and has been around longer than Grandpa Epi. She is Auntie Ursula and lives in the sky. She looks quite fierce but is a darling. |
For some reason it happens that a number of public houses are named after us bears. Here are three.
The first one is a picture of cousin Blackie who lives in Canada and the second one is the Straw Bear. Cousin Wheatear was the model; he was a toy for a gentleman farmer in Hertfordshire. Lastly is the Bull & Bear in New York. We are not usually friendly with bulls but my cousin Junior gets on well with one when they go for a pint on a hot day.
England has a reputation for being shopkeepers and certainly bears keep up that tradition.
| | | | |
| --- | --- | --- | --- |
| | | | Uncle Courtney is an artist of great repute and he runs an Art shop in Burford. My Uncle Teddy is proud of our tradition as shopkeepers and owns a shop named Dolls & Bears in Broadway, Worcestershire. The model outside his shop shows how we like the colours red, white, and blue, being true Brits. |
Now I will tell you about some of the foreign bears in my family tree.
The first picture (Uncle Johannes is the one on the right near the front) is the Barengraben in Berne in Switzerland. People can buy carrots to feed the bears which they enjoy. My uncle won 1st prize at yodelling in a competition recently. The second picture is Pedro and he comes from the sunny south of Spain. He visited a place called Doña Lola recently and had a lovely time. He is thinking of buying some timeshare so he can visit more often. In fact, he hopes to come and visit me next April. The last three are coats of arms for places. The first one is Madrid, not all that far from Pedro's home, then Berlin where they wanted to show a fierce animal and try and intimidate every other country in the world, and Berne because they love their bears.
| | |
| --- | --- |
| | I should have told you about Grandma Alexandra before this. She was headmistress at Roedean for many years and was a great mathematician. She is one of the more recent Steiff bears. Steiff made the first teddy bear and named him after an American named President Roosavelt. Thank goodness nobody has thought of making bears today and calling them Tony Bears! |
Another of my cousins is a dancer at one of the London theatres. Dolly is the third one from the left.

I am hoping to go in for the Olympics, not this year, but when they are held in England in 2012. I am hoping to do the duathlon which is rock-climbing and diving. Here is a picture of some earlier bear Olympics.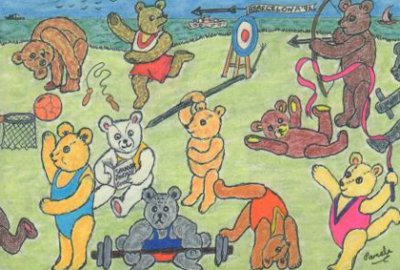 | | |
| --- | --- |
| We have musicians in the family too. The conductor is my Grandpa Haydn and the choir (and orchestra below) are all cousins. | |
| | |
| --- | --- |
| | I also have to tell you about something sad. You know the bearskins that soldiers wear on ceremonial occasions? Very smart too. But they have to kill bears to make them. The Canadians are allowed to kill bears because they think there are too many of us and they promise they only use these bears for the caps. I hope they are right. Nobody would like it if I said there are too many humans in England so we should kill some of them off. |
Before I finish I will show you some of the bears who live in this house with me. They are all the truly British ones because we all like to show how British we are.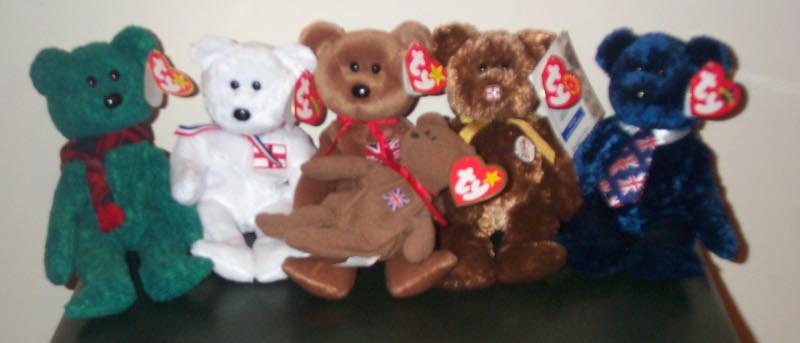 The first one is a Scotsman called Wallace and he can play the bagpipes. Next is England who used to play football, then there is Britannia with her baby on her lap. There is another England who played in the Fifa World Cup 2000. and last comes Pops.
I have a passport and an identity card and am looking forward to next year and going to Spain withHM and HF. In my passport I have to state my next of kin. So I will show you who they are.
| | |
| --- | --- |
| | One of my next of kins is Mr. Bear, here with his carer Uncle Nick. Nick was given him as a 50th birthday present by Auntie Caroline and family. |
| | |
| --- | --- |
| My second next of kin is Fortius and his carer is Auntie Caroline. Fortius started to live with her on her 40th birthday. | |
This seems to be all the relatives I can remember at this moment. I do know I have to find out more about dancing bears because that was a very cruel thing and I know one of my cousins danced somewhere in France before he died. Maybe I will be able to tell you more after I have been to Whipsnade and had a chat with my birth mother.
6th July 2004: I am very excited today because Auntie Caroline has sent me one of those blue passports which is so much nicer than the red ones. I don't mind the red one I have because it is like those that HM and HF have, but I really prefer the blue. HM and HF just had to have what the government said they should have, but us bears are allowed to CHOOSE and we really do like to show how True Brit we are.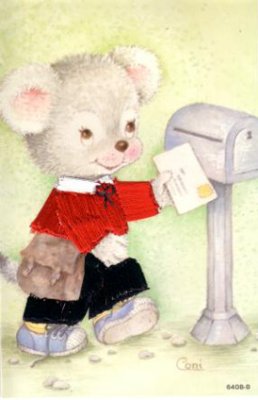 Please click on the postman to write to me. I would love to hear from you.