Burmese Cats
We have the most beautiful, friendliest, loudest-purring cat in the world. Her name is Dulci, she is 16 years old, and here is a recent photograph of her.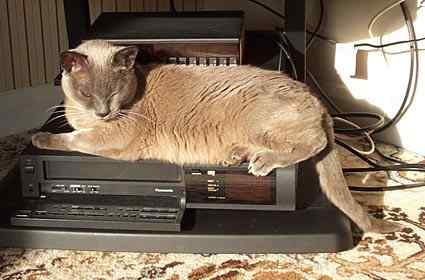 Way back in the 50's we lived in the tiny hamlet of Wedhampton, 5 miles from Devizes in Wiltshire. A retired brigadier and his wife lived opposite and they had several beautiful brown Burmese cats. From then on I wanted a Burmese cat, but I had to wait until my husband retired from the army and it took a few more years to pass before ending working abroad. Once settled back in England we purchased a lovely brown Burmese kitten. She grew up and gave birth to her first litter in 1985 and Dulci was one of them. She was one of two blues in the litter and the only girl. Every morning she welcomes us with a head-over-heels (we call it a roly-poly) and expects her tummy to be tickled. When she was younger she used to chase for corks that were thrown for her to fetch.
Burmese cats have moved on since 1953 when there were only brown, and now there are blue, lilac, various torties, etc. as well.
An early theme was the Cat and Fiddle pub in the New Forest, then came an artist collection of cats, then cats used on advertising cards in the postcard world followed by various other themes.
So, to begin I will show you my collection of Burmese cats.
The first three cards were published by Brenda Goodwin in her CATS TO COLLECT series.
| | |
| --- | --- |
| | No.2 shows Merlin, Alphito Burmese Grand Champion International, with his four kittens by Solitaire: Livia, Lily, Floss and Rasputin, April 1989. Those are the words on the reverse of the card but I am a little bemused as to which adult is with the kittens. The writing suggests it is Dad, but I don't think any mother would allow another cat to be with her young offspring! |
On the reverse of No.9 is printed - In Memory of Linjen Red Lynx (Atty), Red Burmese,
18.5.82 - 2.9.89. Newcastle-upon-Tyne.

No.14 shows Alphito Burmese kittens: Feleena Aurore d'Alphito, Blue Cream Tortie, and Finbarr Tara d'Alphito, Brown Tortie. Toulouse, Spring 1991. I wonder if the colours of the kittens were printed correctly!

On the reverse of all cards is printed - All paws pad to Brenda Goodwin for the best cat postcards worldwide.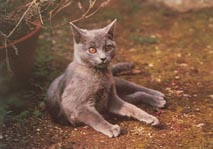 This could have been a photograph of Dulci herself in her younger days.
However, this Blue Burmese was named Caroline and was photographed by Pascal Julien.
The publisher was Dastumadenn Ar Chazh Hag Al Logodenn.
Left is "SAM", Brown Burmese, a nice artist-drawn card by Margaret Merry of Truro, Cornwall. Next are cute kittens by photographer Guy Withers in a Series named Pets 1975 by publisher J.R. Dixon. Right, a rather fierce looking cat on a French card, by artist Georges Nemoz. His looks belie the friendly, gentle nature of Burmese cats.
Lastly, two black and white cards by Art Unlimited of Amsterdam, one by S.M.Lucardie titled 'Burmese' and the other by Gijs Woldhek - Brotherhood of Cats. The second shows strongly the tendency to produce Burmese cats these days looking more like Siamese cats with their narrow faces - a trend I, personally, do not like.
You can click below to Cats in the Postcard World - a page of cards for National Postcard Week, those given to you at Fairs, etc. and I hope to show you more CAT postcards in my collections as soon as I can.
May 2004. At last! Recently we were in Southampton and I spotted this John Hinde postcard of a Chocolate Burmese cat.