My Family on Postcards
This first collection is a fun one composed of cards I happen to come across and take a fancy to. All cards show our names or an event in our lives. The page was originally written in 2001 and now it is March, 2008. A lot has happened in the intervening years. So here we go!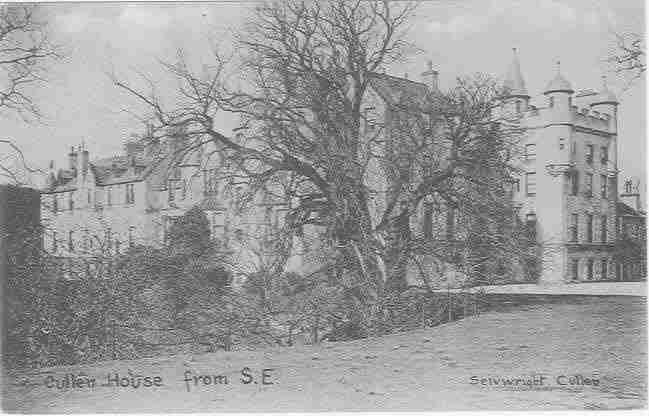 This postcard, titled Cullen House from S.E. was published by Seivwright of Cullen, Scotland. It was posted on 7.1.16, the sender thanking the recipient for a parcel and wishing her a happy new year. She hopes "there will be more happiness before the year is ended. It has great need, many a sorrowing home there is". She goes on to say that her dearest boy is in Surrey and has joined the Scots Guards.
| | | |
| --- | --- | --- |
| My husband is Quintin. The card is in the 'National' Series and was postally used in 1919. | | For myself here is a lovely sailing ship called Jean. The card has no signs of publisher or printer. |
| | |
| --- | --- |
| Our eldest son is Nicholas. There are many churches named after St. Nicholas. I have chosen this little Chapel which is at St. Ives. The words say it was "partially destroyed by order of the War Office in 1904, was rebuilt and restored to its original condition by Sir Edward Hain 1911, being the Coronation Year of His Majesty King George V". | |
| | | |
| --- | --- | --- |
| Our elder daughter is Marina. Her baby was born in this little Cottage Hospital in Aldershot. The hospital no longer exists and the land was sold. | | Kirsten is our eldest granddaughter. She attended Queen's College in Harley Street, London. The card is one of Tuck's Series 1431 and titled 'Queen's College, Harley St., W. The Pfeiffer stairs.' I'd love to find the other five! Now in 2008 I have three more of the set - only two to go! Kirsten went to University, became a schoolteacher, married John and has two young boys named Oliver and Charlie. |
| | | |
| --- | --- | --- |
| Our younger daughter is Caroline and the card I have chosen is of Caroline, a lioness and her twins, at London Zoo. | | Peter, known to all as Pete is our son-in-law. His card shows Matheson Lang as Pete in the play of the same name. |
and their three children
| | | |
| --- | --- | --- |
| | | |
| Their elder daughter was named Suzy Anne but now prefers to be Suzy. Her card is of Anne Boleyn. She has been to University and passed further exams afterwards to be an expert in taxation. | For Adam there is a vast choice of cards in comic boxes making fun of both Adam and Eve needing a new wardrobe. Adam has trained to be a chef and is now ensuring the hotel he works in has a good reputation for its meals! | For Toya I have a multi-baby card in the shape of the letter T titled Orchids. She is currently at University and will finish later this year. |
| | |
| --- | --- |
| Next comes Malcolm. His card shows the tartan and coat of arms of the Clan Malcolm from the Heraldic series by Ja-Ja. | Marie is our daughter-in-law and for her I have a deckle-edge birthday card with her name and the good-luck symbol swastika. |
Sadly this couple are now divorced.

Their three children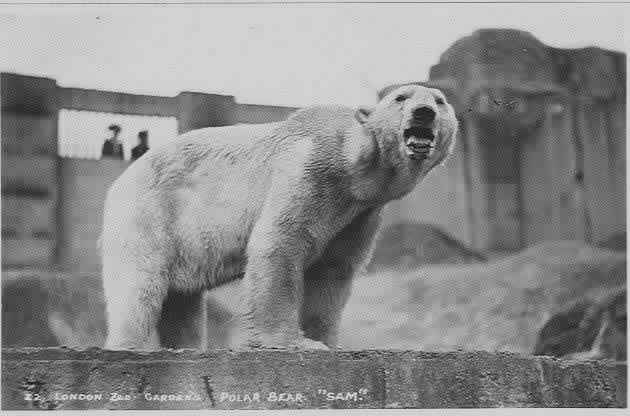 Sam's card is another one from London Zoo - a polar bear named Sam.
He is now at University in his second year with two to go.
Next year he will have a placement to study outside the University.
| | |
| --- | --- |
| | |
| Henry is our eighth grandchild so the choice of a card is obvious! This one is from Tuck's Oxford Pageant series. Henry is studying to get A levels but has not decided on his career yet. | I haven't as yet found a card with the name Corinne, so as her next three initials spell the Spanish word PAZ I have this card of the Embarcardero de la Paz in Barcelona. Corinne is fond of animals and hopes to make her career looking after them. |
| | |
| --- | --- |
| Toby is our youngest son. His card is by the artist Nina Brisley - 'Toby, you don't See-Saw a bit well". | Ann is our daughter-in-law and her card is of St. Ann's Well, Malvern. |
and their three children
| | | |
| --- | --- | --- |
| | | |
| Benjamin was born in St. Thomas's Hospital opposite Big Ben. I have a number of cards of Big Ben and this one also shows its chime. Benjamin is at University studying Archaeology. He will get his degree later this year and is looking forward to finding work in archaeology. | Martin's card is of a house-martin by Winifred Austen. Martin will soon be 17 and looking forward to driving lessons. He hopes to get to University in 18 months' time. | I haven't yet found anything with Jonathan on. I know of a Folly of that name in Hampshire but so far no luck with hunting for a card of the building. This card shows Iron Acton church where he was christened - and his brothers too - and his parents were married there. Jonathan enjoys life and doesn't have to worry about exams yet! |