Picture Postcard Show 2001

The Show, organised by the Postcard Traders Association was, as usual, a great success, enjoyed by all, collectors and dealers alike - and everyone looks forward to next year! Here are some photos that were taken at the event.
The first two show James Popplestone (son of the Chairman of the P.T.A.) imprinting a number on the limited edition postcard collectors are given on entry, and the second is Mike Day (P.R.O.) getting his table ready - computer already installed.
The first card here shows the beginning of the queue just before opening time, printed in sepia as it would have been early last century during the Golden Era of the postcard collecting hobby. Next comes the continuation of the queue round the corner - it went on down the length of Elverton Street and round a further corner. The third was taken about half an hour later and you can see the French dealers were there in force as usual.
The 50th anniversary of the Festival of Britain was the theme for the Show and people admired the display of postcards of that event. The competition, organised by Brian Lund, provided a good display for many to admire. Melanie Mordsley (committee member) relaxes for a few moments at her union jack bedecked table.
Plenty of postcard accessories provided by Jean Thomas (committee member) of Rob Roy. Plenty of moderns provided by Roy Allan and other dealers. Plenty of books, magazines, etc. and, of course, Picture Postcard Monthly, provided by Brian Lund.
Friday was the Annual General Meeting of the P.T.A. At the table are Helen Scott (Treasurer), Derek Popplestone (Chairman), Peter James (Honorary Secretary) and John Bateman (Organising Secretary). Dave Davis (Exhibition Organiser). Pat Loobey (new committee member) with his wife Joan at their table.
| | | | |
| --- | --- | --- | --- |
| Ted Lloyd and John Alsopp (both retired committee members) have a chat (no doubt about Railway postcards!) | | Jean Cullen (retired committee member) looks at the programme she arranged for this year's Show. | |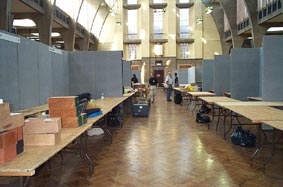 All over for another year.
This year's Show will be held on 28th - 30th August 2008.