July 2010
JULY 2010
SALMON POSTCARDS AND THEIR ARTISTS
and other publishers
| | | |
| --- | --- | --- |
| | | |
| 3344 | 1521 | 1867 |
| The Thames at Richmond | No title | A Very Happy Birthday |
These three postcards are all by C.T.Howard, a different artist for some of you. There are approximately 150 in the Watercolour Series and an almost uncountable number in the Fancy Series as so many of them were painted and given various titles on the same picture. Almost every card can be found with four or more different titles on each one, and particularly, during World War I cards can be found with twenty or more different titles. You begin to wonder if you will ever find them all, particularly as a fair number were sent to friends in other parts of the world!
The first is in the Watercolour Series of Richmond postcards.
The second card is from the Fancy Series. There are several sailing boats together in a short list of numbers. Some have been retitled one or more times.
The third card is in the Fancy Series. There are several different pairs of dogs shown and each different card has title on the front, title on the back, Birthday Greetings or other words on the front usually amounting to four different cards for each pair of dogs.
If you would like to see more of my C.T.Howard cards please click on the CTH signature in the listing of artists at the bottom of the page.
Have you booked your summer holiday yet? And is it where you might be able to buy postcards to add to your collection or even start a new collection - then please tell us about it. Our holiday started at Portsmouth where we boarded the ferry Pont-Aven to take us (and the car) to Santander. We then spent a few days driving south to our destination at Calahonda. During the 1950s we lived in Gibraltar for nearly three years and this part of Spain, the Costa del Sol, was almost non-existent. We were allowed into Spain for a distance of about 30 miles north or west. Places like Marbella or Estepona were no more than small villages with maybe a bar or two and policemen to see we didn't try to drive further than we were allowed. Police patrolled the cliffs to make sure no-one on the beach was wearing a bikini. During our stay this year we spent a day in Gibraltar. Very little has changed except you can go by cable-car to see the apes and Main Street is a walking area rather than a road for cars. The apes used to visit us at our house but could not get in because we had railings on the windows but they used to sit on the outside sill and spit the pips of fruit they were eating into the house. After three weeks in Calahonda we spent a week driving back to the north where we drove through snow ready for the ferry home. Plymouth this time and our plan had been to spend time in Devon and take a couple of days driving casually back to our home. But the weather was very wet so after a drive through Dartmoor we decided home was where we wanted to get. Here are some of the postcards I have of the places we visited.
| | | |
| --- | --- | --- |
| | | |
| The first card is a modern and on the reverse the title is The Mediterranean Beach side Pool & Bar Restaurant at Dona Lola Club, Costa del Sol. This is a postcard of the nineties. Since then both the Pool and the Restaurant have been updated and this is where we stay. | This card is very modern (and very large) titled Castillo de Colomares. | Salmon card no. 2-29-19-04 |
| | | |
| --- | --- | --- |
| | | |
| 1-00-04-32 Printed by Salmon | Printed by Salmon with no number | Printed in England but where? |
| The Rock from Spanish Shore, Gibraltar. We lived approximately half-way across and half-way up the Rock. | Catalan Bay Village, Gibraltar, is on the other side of the Rock. | Rock Monkeys taking possession of Motor Car. Anyone going up the Rock took their windscreen wipers off and those of us living near the apes only put them on in the rain! |
| | | |
| --- | --- | --- |
| | | |
| 2-48-02-14 - Salmon | No.38 | JB15 |
| Widecombe, Dartmoor | Dartmoor Ponies in snow | Rock Climbing |
| | | |
| --- | --- | --- |
| | | |
| Bespoke | Bespoke | Bespoke |
| Buckfast Abbey North West | The South Transept Buckfast Abbey Church | The Interior Buckfast Abbey Church |
A little bit more about the Castle, above, from a local newspaper. "Castillo Colomares was built between 1987 and 1994, by Doctor Martin, who had spent most of his life studying and writing about Christopher Columbus, his roots and his voyages. He decided to erect the monument in homage to the great discoverer. He was assisted by two builders from Alhaurin, to make this fairytale-like creation which with simple bricks, stone, wood and mortar, brings together some of the most representative architectural styles in Spain - Byzantine, Romanesque, Gothic, Mudejar..."
The third card is not Spain - Scroby Sands Wind Farm is a sandbank near Great Yarmouth. However, there are hundreds of fields and hills in Spain covered with these windmills creating electricity and they also have huge areas covered with solar panels attracting the sun and supplying electricity to villages. A pity we don't get more enthusiastic about following Spanish initiative. I know a lot of people don't like them (that is the windmills and solar panels) but I do know I prefer them to residential blocks of flats in fields.
Our journey back in England took us around Dartmoor. These three cards were painted by William Carruthers, and I expect you all know that A.R.Quinton was asked to paint a short series earlier. I was surprised that the Buckhurst Abbey shops did not know much about these two artists and neither had they any references to them in any of their books.
Lastly I will mention the bear on the rocks. My bear, Bruno, was horrified when he learnt I was typing about places we had been to and he had enjoyed as well with no mention of him. He has a collection of bear postcards - animals and toys - and I have promised him that I will always show one of his postcards on the website in the future.
Will you please now think about telling us where you went for your holiday and were you able to buy some postcards to show us?
I received several emails when this website came out in April so "Thank you very much to these people". First of all I will tell you about Gillian Jackson's contribution.
| | |
| --- | --- |
| | |
| 6-51-67-29 | 6-51-67-30 |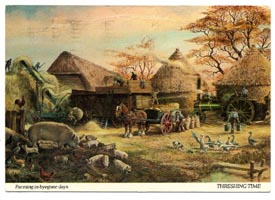 6-51-67-32
6-51-67-29 - The Fitting - A comfortable Collar was essential to the well-being of a working horse and meant it could give a good day's work. Here a farm saddler is fitting a new collar.
6-51-67-30 - The Last Load - As the last sheaves of corn are unloaded from the wagon the ricks are being thatched to protect the harvest until threshing time comes around.
6-51-67-32 - Threshing Time - An Aveling and Porter steam engine drives the massive threshing machine in the stackyard. Threshing was heavy, dusty and thirsty work.
Gillian wrote "I came across my few cards of the above series. I don't know how many there were in the series as it doesn't say. All by Dudley Pout and being consecutive numbers, it doesn't help with a total for his output. The final card was used in 1988, others unused." Thank you Gillian.
I received an email from Tony Affleck, our expert on Carruthers cards, about the Hampton Court Palace card 4249. You can hardly read the number which is on the reverse of the card in very tiny print after the Published and Printed words. Tony wrote "Re the WC 4249, I have a standard 4249 with exactly the same view and description on the front but a standard view. It does not state that it is W.Carruthers on the front or reverse and there is no WC on the bottom left front. I wonder if this is a test card prior to production that managed to escape into the wide world. I have never come across any other like yours". What do the rest of you think? Thank you Tony.
Several people have commented on the difficulty of finding an owner for the monogram AW or WA (or even AH or HA), Watercolour cards 289O to 2894 of the Margate and Cliftonville area. Ray Parsonage wrote "I very recently queried with John Chisholm whether he knew the name of the artist responsible for cards 2890-2894 - I am waiting to hear from him. I bumped into Jack Whittaker at one of the 2009 fairs and broached the matter with him but alas with no further clarity other than he felt it was an artist local to the area, possibly female. He was equally inconclusive about SEI (card 808) the artist I was also trying to identify. I agree the monogram could be any combination of W, H and A and like you had considered W.Affleck as a possibility but felt the artists' styles were rather too dissimilar".
Ray also mentioned another subject. "Do you feel there is still some mileage in a Swaps Page?" Well, do you? If you would like to sell or swap please let me know number, title, artist, publisher, printer, swap or sell with price, approximately three weeks before the next website is due. I MAY be able but can't promise to print a copy of the postcard in question - it all depends on space. Thank you Ray.
I have good news from Brian Harrison. He is doing well, the hospital are pleased, and he is going on holiday this month. Lovely to hear from you Brian.
I expect most of us use a similar way of keeping our postcards in an album. I collect in alphabetic order of artist names for the Watercolour cards but other people will put them how they most prefer and enjoy. At the moment I am collecting all the postcards of Clovelly by Salmon artists. Plenty of them looking up the hill, down the hill, up the steps, never seen one down the steps, etc. etc. When you think of Shakespeare there are a good number of Anne Hathaway's house by different artists from different angles, painted at different times of the year; the theatre too. Sometimes there are just two of the same view by different artists. If the summer continues cold perhaps you could write and let the rest of us know about what you collect or interests you.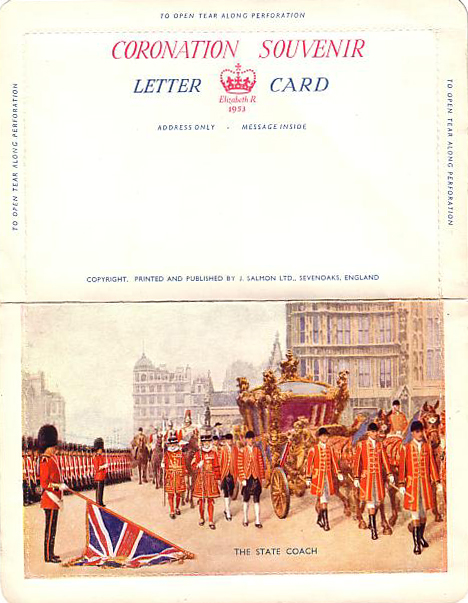 Lastly, most of you will have seen the above picture as no.4379 in the Fancy series. The list I have suggests it is by C.T.Howard with a question mark. There are six cards in a Royalty series . Below are mentioned the four cards which have the same picture as above.
No.4379 in my album has the front with the words - The Opening of Parliament by The King. Arrival of the Royal Procession at the Houses of Parliament. - The reverse is a normal one.
My second card with the same picture has an oil surface, still no words on the front, and the reverse reads - THE OPENING OF PARLIAMENT BY THE KING (1). Arrival of the Royal Procession at the Houses of Parliament.
My third card has the words - THE STATE COACH - on the front with a normal back.
My fourth card has a textured surface, no words on the front and the reverse reads - This is one of the "JUBILEE SERIES" of Postcards, Packet of Six for One Shilling, in "OILOCHROME" finish. Be sure to insist on having Salmon's Post Cards always, also Salmon's Calendars, Boxed Christmas Cards, and Jig-Saw Puzzles. - and below that are the same words that mention the Opening of Parliament above.
One of my cards is dated 1935 and the King is mentioned. Then we come to the Coronation Souvenir Letter Card shown. The card is being used again by Salmon for Elizabeth R 1953 printed below the crown. The Letter Card is only minimally larger than a postcard, has rounded corners at the bottom end. In those post-war times using an earlier postcard a number of years later was a great economy.
I wonder if the whole series of six was reprinted in 1953. This is the only one-fold Letter card I have ever seen in England. Do you know of any others and do you have any yourself? Please let us know. No doubt some of you will remember the Coronation - what did you do to celebrate? We watched the ceremony on a large screen (not many around in those days) in the Officers' Mess. I dressed my young son of 2 1/2 years in a trumpeter's outfit for the village party.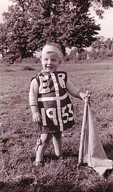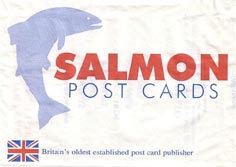 Click on the logo to return to the list of Salmon articles.