OCTOBER 2010
SALMON POSTCARDS AND THEIR ARTISTS
and other publishers
4195
4136
4304
Baths & Pier Approach, Bournemouth
TO GREET YOU
ON YOUR
Birthday
THE HOUSE ON THE PROPS, POLPERRO
No Title
These three postcards are by William Carruthers and you can read about his life if you click on the postcard at the bottom of the page. This was written by William Affleck several years ago. It is not difficult to find William Carruthers' cards at Postcard Fairs but when you get to the last few to make your collection complete those are the few that must be rare and worth more than £1.50 each, the price for them in the current catalogue.
The first card shows (almost) where we stayed in 2008 on the visit to Bournemouth when looking at places where A.R.Quinton painted. If you walk up the hill to the left of the Baths (now a hotel) Marsham Court hotel was on the left roughly where the bend to the left starts.
The second postcard shows a birthday greeting as well as the title. Salmon printed a number of William Carruthers postcards with a variety of Birthday Greetings, but I have found no other type of Greetings on his cards. This one also has a third variety of the card looking like an oil painting known as 'oilochrome'.
The third card has found its way into the Fancy series. Just a few cards are in the Fancy series and I do not know any reason other than perhaps that the man who was dealing with the prints simply put them there by mistake instead of in the Watercolour series. So far I have only five of those in the "wrong" series. - 4233, 4234, 4303, 4304, and 4304 with the Birthday Greeting. Can any of you tell me other numbers to look for?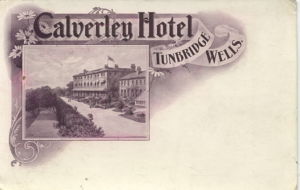 Recently Quintin spotted this postcard on eBay. As soon as he saw the bids had risen to £65.95 he decided it was not for him. But he was interested in knowing what amount it sold for so we waited to see the winner's bid. This postcard was painted by A.R.Quinton and used in 1904. The vendor described it as an early vignette, Tunbridge Wells, 1904, and he had no knowledge of the publisher as the postcard was not mentioned in any catalogue he owned. We therefore assumed it to be a "bespoke" card by the Calverley Hotel in Tunbridge Wells for their guests to buy (or be given) as a suitable way of advertising their hotel. Then came THE DAY. £137.00 was the price the new owner paid to have this card in his album. And it will probably find its way into Picture Postcard Monthly too. So how many postcards did ARQ paint before the date he worked for Salmon? We know of Tuck and a few others where the numbers produced were sufficiently low as to call for high prices these days. Firstly, did one of you get the Calverley Hotel card - if so, "Congratulations". Secondly, can one (or more!) of you write a short history of A.R.Q. from the beginning of postcards up until 19ll so we can all share the information!
Modern Postcards - Do you collect them? If you have just a few in your collections it will help your grandchildren and greatgrandchildren to be interested in the idea of collecting them at reasonable prices. If you are a Topographical collector it is easy for you to collect a few of the area you are interested in. And there are quite a number of Fancy cards too which would interest youngsters. Many schools have stamp clubs for the children but the teachers don't seem to be so interested in postcards. Another area to encourage is Brownies and Guides which have Collectors badges. No reason why the Cubs and Scouts shouldn't join in too! When you think back to the early 20th century a lot of youngsters were keen postcard collectors - they bought, they swapped, they wrote to friends, and their albums were found by many descendants at later dates when a number of them became part of a dealer's stock. The most interesting ones I had were one album containing cards from a naval wife to her grandson at boarding school. And another album contained cards from an aunt to her nephew - she always referred to him as a young knight. And I now wish I had kept them!
| | |
| --- | --- |
| | |
| 6-65-75-29 | 6-65-75-32 |
| Country Friends | Country Friends |
Both these cards have the same words on the backs - Country Friends by Louisa Johnson. Sometimes it is easier to find out about the lives of modern artists on the internet than some of the earlier ones. But that hasn't been so in this case. Does anyone know something about Louisa Johnson? And how many more are to be found in this series?
We have names for the first 50 years or so of postcards - the Golden Age, etc. and we are hoping to hear a revised selection of names from 1950 to the present day. "Modern" seems currently to cover a large number of years compared with the first half since postcards began so I hope the changes will be announced soon!
| | |
| --- | --- |
| | |
| 2146 | 2130 |
| I'm having a "stunning" time | I hear you calling me. |
I am sure you will all recognise the work of George Studdy in the first postcard. In the 1910 Picture Postcard Values his pictures are quoted as being comic/Bonzo or Others. I know I am being what you might call "pernickety" but I would prefer to be told what comic/Others means - is it other types of dogs, comic sports, dogs as pets, etc? Recently I managed to buy the second card and I know that is positively comic/Dogs. Does a collector of George Studdy's work know whether there are more comic cards and if so do please write and let us all know. There are at least two websites on the internet of the life and work of George Studdy.
"Christmas is coming, the geese are getting fat", etc. In fact, it won't be long before we start panicking about getting presents for Family, friends and neighbours. Not long ago we were encouraged to think that 2011 was going to be a special year as it would be 100 years since the first calendars were made by Salmon using ARQ's work. That would mean they were on sale as Christmas presents this year. But apparently it wasn't quite like that! We do know that 1911 was the year that Mr. Joseph Salmon saw some of ARQ's work in the art department at Selfridges in Oxford Street. Mr. Salmon bought six of the pictures and reproduced them as postcards. "The exact date of the start of the association is unknown but 1911 would seem to be the most likely year for the Selfridges' occurrence; certainly no Quinton illustrations appear on calendars produced by the firm before those published for 1914, which would have been printed in 1913". These extracts are from "The Rural England of A.R.Quinton - Bygone scenes from the brush of a country artist". The book does not mention an author but shows it to have been published and printed by J. Salmon Limited firstly in 1978, then 1990, 1992 and again in 1992.
So next we come to SALMON CALENDARS 100 Years 1909-2009, an advertising A4 "booklet" of 8 pages. The first calendars sold in 1908 for the year 1909 and were an immediate success. "In 1911 the first calendar using the work of watercolour artist A.R.Quinton was published, "Picturesque Villages of England". " So popular was this calendar that, hardly had the first edition been printed, that a reprint had to be put in hand."
If you are confused by the contradictions in the information above, so am I! Details seem to have been revised over the years.
Visit Salmon of Sevenoaks to see some of the vast range of calendars for 2011. There are over two hundred and fifty titles in a wide variety of sizes and styles. This number of calendars shows the front covers printed in different groups of styles showing many different subjects - A.R.Quinton, Aviation, Shipping, Pets, Different areas of the U.K., Different counties, Windmills, Comic, etc. etc. So many to chose from you will hardly know where to start! Most contain photographs and the photographer is mentioned. The only difference I would like to see would be the work of a lot more artists - both one hundred years ago - and 100 weeks too! Anyway, enjoy looking at the calendars!
This calendar, made for 1916, is named "Picturesque Villages of England" with paintings by A.R.Quinton.
Have you got your copy of Brian Harrison's listing of Salmon artists on a cd yet? Unfortunately it hasn't been mentioned by Tony Longshaw yet in the Newsletter. The cd with its contents is absolutely free, so if you would like one please send him an email to ask for it. Brian's email address is on the listing of members. If you can't find that list please email me. [QC update Dec 2014 - Unfortunately Brian is no longer with us but I have his listing on my pc and could probably email it to you in some kind of suitable format if you contact me at ]
2858 The Sands, Llandudno - original version - with a price of 55p on the reverse!
If you want info on ARQ postcards here is a link that you might find useful - Database of A R Quinton Postcards
You can make multiple selections (including negatives if there is a box to its right in a 'not' column). As an example change the 'any' boxes on oil to oil, on list to GRE, on county to Worcs, on publisher to TUCK and click on the 'not' boxes of oil, list and publisher and GO will get you 124 items of Worcestershire that are not Oilochrome, have no overprint and were not published by Tuck instead of the full list of over 200 cards.
To go back and try again click on the back arrow and then click 'reset'
Type 1308 in the number box 3 down on the left. GO will get you 5 versions of this card. The pics are small but if you click on one of them you get a full size version. If you want to compare all five put a tick in the box to the right of each small pic and click GO. The result should enable you to see the differences between all 5 cards.
If you have trouble finding how to get around the database please send an email to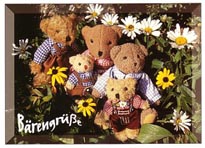 Bruno says "I promised in July to let you see one of my Bear postcards. This one was given to me while we were in Austria earlier this year when we went to see the Passion Play which is produced every ten years. Unfortunately it is not a Salmon card but there do not seem to be many in other countries these days".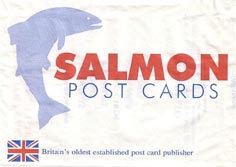 Click on the logo to return to the list of Salmon articles.