JANUARY 2011
SALMON POSTCARDS AND THEIR ARTISTS
and other publishers
I hope you all had a lovely Christmas
and I wish you A HAPPY & PROSPEROUS NEW YEAR
3798
4437
4524
The Rock Gardens and Pavilion,
Bournemouth
The Horseguards, Whitehall, London
Winkle Street, Isle of Wight
These three cards are by Frank Ernest Quinton, (frank and earnest as he jokingly describes himself), a second cousin of A.R.Quinton. I have enjoyed his postcards for some time - light and fresh. They were being produced during the 1950s when he worked for Salmon for just a few years. He enjoyed painting the London cards but not the updates of work earlier painted by A.R.Quinton and other Salmon artists. Like A.R.Quinton he wanted to cycle round the country to paint - he enjoyed an outdoor life and did not wish to work in an "office" and that is why he did not stay with Salmon for long. Currently his work is becoming more popular. I know there are a lot of collectors wanting postcards by A.R.Quinton and when they see a postcard by F.E.Quinton or F.E.Q. up for bidding, they seem to be interested to add some of his postcards to their collections. I have a number of his cards but when I go to a Fair the dealers tell me they just don't bring them because they don't sell. Certainly if they don't bring them they never will sell them! Quintin was lucky enough to buy a painting of FEQ's for me. It was bought for me for my birthday, framed for Christmas and now lives on a wall in the sitting-room.
| | |
| --- | --- |
| | |
| 1555 | 1555 |
| Friday Street, Nr. Leith Hill | Reverse of 1555 |
| A.R.Quinton | A.R.Quinton |
Salmon used to advertise their position at Exhibitions on the reverse of their A.R.Quinton postcards, and, of course, other artists' postcards too. They also used to print Happy Birthday messages, invitations to a wedding, etc. I have one from the CTH Zoo series with the words "Sample Card, Packet Series 3084", followed by "Fish at the Zoo" and another reverse advert reads "Patriotic & Comic Post Cards" with a mention of 144 all different, etc. It also says "The great rise in the cost of Paper will in all probability cause many more Postcards to be used in the future". But Quintin had never before seen one with personal advertising so decided he must have it! A number of shops used to ask Salmon to print their names as publishers. But this one is very different, the first and only one either of us had ever seen. We hope it was good for the sales of magazines, stationery, books and other items in the advertiser's local shop. If any of you have a postcard with this type of advertising on the reverse please send me a copy of front and reverse of the card so I can show it to everyone else. One final point! The card has been given an incorrect number. No.1555 is for St. John's College Gate, Cambridge by ARQ and Friday Street, Nr. Leith Hill should read no.1607.
I bought this postcard recently. It was up for bidding on eBay. It has C.T.H. bottom right in the ribbon. I know that C.T.Howard worked for various companies - also that there is another C.T-H who paints fruit. But this new one does not look terribly like C.T.H's work that I collect. It could be but, in fact, there is no publisher or printer mentioned on the reverse of the card. Anyone got any ideas to help me find a publisher if it is not Salmon, please?
On the reverse is the card number 1755 and the title RED DEER
Have you ever thought about the blank areas in the Jack Whittaker catalogue? Sometimes there are very few blanks and it may be that those cards had become particularly rare and difficult to find. Other times it could be that for some reason Salmon just never used the numbers, or perhaps they had a plan but it never materialised because, maybe an artist let them down, or just simply an employee forgot to use the numbers which are now in the catalogue. Have any of you collectors any ideas of what might have been intended for these "might-have-beens"?
A couple of months ago I received an email from Mike Smith and here is what he wrote - "I am trying to find a clue on the Watercolour series cards 1749 to 1759 inclusive. Jack Whittaker has left these as a blank which usually means they were never used. I think! I have, however, been coming across George Rankin's cards which I had assumed were Fancy but which show British wild animals. The few I have found 1752 Otters, 1753 Fox and Cubs and 1755 Red Deer have left me wondering whether these might have been allocated to the Watercolour series, which, with the exception of Ostende, is British scenery." His theory sounds very plausible to me. Now I would like to know what you think!
Here are a few of my thoughts. I think that although Mike has mentioned nos. 1749-1759 I don't think the whole gap of 11 postcards can be allocated to the George Rankin cards that he mentioned. He has the three in the previous paragraph plus he knows of three more - 1754 Hare, 1756 Rabbits and 1758 Roe Deer. This leaves 1757 to be found with the possibility that 1749, 1750, 1751 and 1759 may or may not be by George Rankin and may or may not belong in the Watercolour Catalogue gap. So I decided I must look elsewhere to see if numbers are duplicated.
In Brian Harrison's listing it shows 1749-1759 as blanks for Watercolour cards. The first two numbers and the ninth are shown as CTH Fancy. and the remaining eight are blanks. Next I have two lists of Fancy cards - one is titled Mountford and the other Whittaker. They are exactly the same unfinished list of Fancy cards so who wrote them I can't guess! The numbers 1752 - 1756 and 1758 are blanks but the other five have Fancy titles. So now we would like your thoughts please. We would particularly like to hear from Jack Whittaker about his opinions if he can find time. And also, particularly, we would like to hear from George Rankin collectors. If you write to me I will pass your emails on to Mike or you can write to him direct. We will let you all know in April how thoughts have gone, whether we can make a decision or not, or whether it should be left to individual collectors' plans for their albums.
Do any of you collect foreign Salmon postcards? I do and my first venture was Bermuda. This was followed by Bahamas, Fiji, Gibraltar, Netherlands, Seychelles, Tanganyika and Turkey. The following four are from Dar es Salaam, Tanganyika. They are photographic postcards and I do not know when they were produced as none have been posted or written on the reverse. It looks like there was a black and white series followed by a coloured series with the same pictures. The black and white ones here have numbers (3 is bottom right on the one with the sailing boat and 6 is in the same position on the one with the cars). On the reverse are the words Real Photo. Printed in England by J. Salmon Ltd. Sevenoaks. The dividing centre line reads Copyright & Published by Dar es Salaam Bookshop. Then come the two coloured ones, No.2 and No.4. No.4 as you can see is the coloured version of Acacia Avenue, Dar es Salaam. I hope I will find more cards in these series but, unfortunately, not many dealers like such modern cards and consequently don't have them in their stock!
| | |
| --- | --- |
| | |
| | |
| --- | --- |
| | |
A short while ago Quintin said to me "It is time you put Helen Allingham on your 'wanted' list. She is on Brian Harrison's listing with six cards mentioned." So I tried to find a little about her. I looked through some of my listings of Fancy cards. I have one particularly long list of about 40 pages of Fancy early and modern cards given to me by Tony Longshaw several years ago. Who compiled the list I don't know. In there I spotted the following -
1457-72-00 COUNTRY DAYS. The Stile by Helen Allingham RWS. (V) N.
1457-72-01 COUNTRY DAYS. Wallflowers by Helen Allingham RWS. (V) N.
1457-72-02 COUNTRY DAYS. In a Summer Garden by Helen Allingham RWS. N.
1457-72-03 COUNTRY DAYS. Foxgloves by Helen Allingham RWS N.
1457-72-04 COUNTRY DAYS. The Robin by Helen Allingham RWS (V) N
1457-72-05 COUNTRY DAYS. Tig Bridge by Helen Allingham RWS (V) N.
There could be an error in that there should be a little dash between 14-57. So I wrote to Salmon of Sevenoaks and they firmly denied ever printing any postcards of Helen's work. I then wrote back and asked who the artists were for the above-numbered cards and so far there has been no reply. So, does anyone know if these cards do exist, and, more excitingly can anyone send me a scan of the front and reverse of any of the cards. I have found that Salmon know about Helen Allingham as her paintings have been used in one of Salmon's small recipe books titled Favourite Recipes from the Kitchen Garden. If you go searching for Helen Allingham Society on the internet you will see her biography, paintings with their titles, etc. She was born in 1848 and died in 1926. The postcards I am trying to find were not produced in her time, but I think were produced in the early 1990s and obviously would be with a modern numbering system. I look forward to hearing how you get on in your hunts.
Modern Postcards. Several years ago Brian Partridge wanted photographs of young girls wearing the ruched style of swimwear popular in the late 50s. So I sent him some photos of my children at the seaside at that time. Here is the photograph he chose of my son and daughter at Bognor Regis and the postcard Brian Partridge made from it. The postcard is titled Paddlers' Pail in the series Childhood Treasures published by PH Topics when Pat Holton was busy publishing many attractive modern postcards. The photograph was taken in May 1956 and the other is the postcard Brian Partridge sent me, signed by him on the reverse.
Bruno says "I hope you like my postcard of bears preparing for the Olympics when they were all practising hard to do well. I am hoping to be ready for the Olympics when they are held in London next year. I am aiming for the 100 metres and having a go at shooting the bow and arrow. See you in April.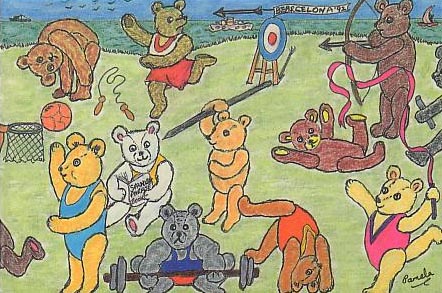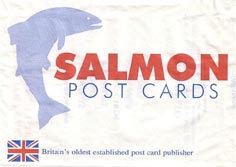 Click on the logo to return to the list of Salmon articles.