JULY 2011
SALMON POSTCARDS AND THEIR ARTISTS
and other publishers
Thank you for the letters you have written. We have been on holiday - Spain as usual, but the weather was disappointing. We have never had such thunder and lightning keep us awake at night. A good time was had by all and I will write more about Spain in the future. The saddest thing was that I could not find an artist-drawn card - they were all photographic.
How often do you look at a map before you start on a journey to see if you might find a place where your favorite artist painted a number of years ago. This happened to us when we were driving to Shepton Mallett a few weeks ago. We wanted to find ARQ1626 - On the Avon at Lake, Nr. Salisbury. We found the village, we knew we wanted to see water so drove downhill as much as possible. Then things got better. Two or three houses, a small area to park, and we thought it looked hopeful. A gentleman came out of one of the houses, Quintin showed him the ARQ postcard and he informed us he was in charge of the fishing that went on. He then gave us permission to walk along by the river until we could see the cottage in the postcard. Below is the postcard by ARQ. Going back I took a photo of the other side of the house and we wondered whether that had been there when ARQ had painted or later been a more modern update (of building, not postcard).
After Lake we drove on to Castle Combe. We didn't have to hunt for the Cross - it was standing obviously in the square - ARQ1579 - The Church and Cross, Castle Combe. In the middle is a photograph of the plaque which was placed there during the early part of the last century. Lastly we drove to ARQ 1584 - The Bridge, Castle Combe.
Then we moved on to Shepton Mallet where we enjoyed a couple of days at the annual Postcard Fair.
I recently bought the following postcard - no.4264 - Old Manor Farm, Chambercombe Valley by W. Carruthers. I expect most of you have seen a few lines of Greeting for a Birthday or other celebration on postcards by May Olney but have you actually seen her personal signature? This is the first I have seen. You will see it easily in the enlarged scan. If you know of others please write and tell me.
| | |
| --- | --- |
| | |
Modern Postcard. This time I have a postcard titled Guildford Cathedral, Surrey, by Diane Setek. She was born in Sleaford, Lincolnshire. Diane Setek has, since the age of three, lived in Kent. She studied at Maidstone College of Art where, in 1963, she obtained the National Diploma in Design. After she married she lived in Prague for a while. Following her return to England, she began working on illustrations of English towns and villages. Diane's work has become a unique twenty-five year collection, covering much of London, Yorkshire, South East England, East Anglia and the Heart of England. With over five hundred titles to choose from, her illustrations are popular in the form of cards, prints and calendars, offering you an opportunity to acquire a portrait of scenic England.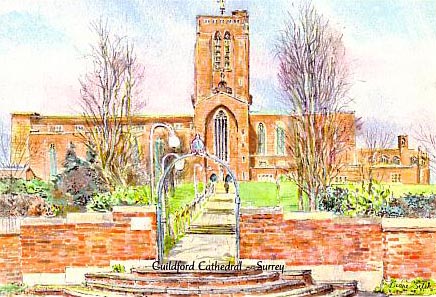 You may remember that I found a Ride a Cock Horse card by Photochrom which exactly matched the one in the Banbury series of cards. So I decided to see if there were others to be found. During the following weeks I found a number of them - coloured, sepia matt, sepia glossy, different positionings of the rhyme, changes in size of print, how the sky looked with more or less clouds, and all are photographic. How many more could be found? Wasn't the first printed protected by copyright? They were fun to collect but I would like to know more about them. Very few have been sent through the post or written by a sender to discover the dates they were produced. I guessed they were all printed about the same time as Salmon's Banbury series. Can anyone put me right on any of these questions? I will show them all to you so you can see how many photographed variations have been produced. What occasion were they printed for - difficult to say because they appeared to be too late for Queen Victoria's jubilee. The most prolific publisher was Valentine. Here they all are. We start with three Salmon cards. The first is no.4245 from the series of six Banbury cards and is only similar to the cards I found. It is worked on from a different angle from mine. The second is no.4242 and is also from the same series of six Banbury cards and the beginning of my collection. I assume all the cards were photographed from this one. But I am far from sure that is right. The third card has no number and is sepia glossy.
The next four start with the publishers in alphabetic order. First and second are Beales & Co., Banbury and both are the same series - The Woodbury Series. - No.1735. These two I have with stamps and postmarks - 1905 and 1907. This has obviously changed my mind about the dates that these cards were produced. The next is R. Brummitt & Sons, Banbury, with number 48547 which, in fact, has the Valentine look about its reverse, and was posted in 1915. The last card has RB on the reverse so could be the same publisher as the previous card, but it has no number.
The final three with publisher names are Photochrom Co.Ltd, with no.67088. Then comes Photo-Precision Ltd. with no.5865. It has Best Wishes from on the reverse as well. Finally in this group is R. Stevens, The Cross, Banbury with P.Co.Ltd. at the top of the reverse but no number.
Then come some Valentine cards, all with small differences - colour, position of words, skies, etc. as mentioned earlier. These three are "Carbo Colour" with no.32-1 in the stamp box and 48547 on the front. Next is "Collo Colour" with no.x.2606. Lastly comes "Valesque" with no.48547.
The following two Valentine cards have no numbers and the last two have no.48457
The first of the last two cards below is from "Moreland Series" V. & S. Ltd., D. It also reads Souvenir Post Card on the reverse. Next comes the last card I have so far found and it is the only one with the date of Queen Victoria's Jubilee Day - 1897 and I have also scanned its back which shows it to be an undivided back.
As the days go by I seem to become more and more bewildered. So now I have come to the conclusion that production of the cards began with Queen Victoria's Jubilee in 1897 and were produced as required throughout the 20th century. Salmon must have thought it would make a good sixth card in the Banbury set which we discussed last time so only 5 could have been updated by W.Carruthers as it must have been a photograph like all those above. I wonder who painted the original and how many publishers copied it. And I still wonder how so many publishers got round the copyright rules!! And how many more cards should we be able to find that are duplicates?!
Then, this morning, another thought hit me. Were they all in fact printed by Valentine? Here is my solution if that were so. Sellers of postcards sent by Valentine to Banbury visited all the shops selling postcards. The sellers asked each shopkeeper if he would like the name of his local shop somewhere on the backs of cards (or fronts) he intended to buy. And instead of ordering 100 from the vendor he upped his order to 500 or even 1,000! Good business for him and for Valentine. Perhaps that tells us why there are so many around at Fairs today!!
No.1769 - The Esplanade, Exmouth. This is a card I showed you and it came from Mike Smith.. It is not mentioned in Jack Whittaker's or Wayne Robbins' catalogues. Mike said that it had set him wondering whether a definitive list of such missing links could be compiled. Maybe this website or the SSG magazine could put such a list together with feedback from readers? It seemed a good idea to me and I hoped you would let Mike or me know of any ARQ cards that fitted this description. I also have heard from Ray Parsonage and he thinks "he would like to determine whether certain postcards identified in Wayne Robbins listing really exist as I and several other serious ARQ collectors I've contacted, have never seen them." So that means please send numbers and scans of any ARQ cards that fit these descriptions so I can start a listing which I will show on the next website. Quintin hopes he will find time to look through his albums and let me have a list for the October website.
Below are some of the Helen Allingham postcards I have found over the last few weeks. Sadly, no Salmon ones have appeared in spite of writing to various Moderns dealers. The first two are quite large cards - the first one on the reverse is titled Cottage Homes with the title "At Paignton, South Devon" and the name Helen Allingham. Down the centre it reads Published by Studio Designs. An imprint of Studio Editions, London. At the top it reads Fine Art Postcards and at the bottom are the words Studio Designs. The second card has the words Postcard Books with a title "An Old Surrey Cottage" from a painting by Helen Allingham (1848-1926). Down the centre it reads Published by Grange Books in Association with Royle and below that Royle in a fancy print and Copyright Royle 1993. Both cards have normal postcard backs and most I found seem to have been printed from the early 1990s.
The next three are normal modern postcard size. The first one of a small boy posting a letter reads A Water Colour by Helen Allingham and Gallery Five 1978 series Cottage Life printed in England. The second is The Medici Society Ltd, London. At the top it reads The Children's Tea - P.C.2183. Reproduced from the collection of Mrs. A.E.Lee with a small paragraph of Helen's life. The last one reads Cottage Life - Gallery Five. Reproduced by kind permission of the Leger Galleries, London.
I have sad news. Brian Harrison died recently. He fought cancer for several years. He was a keen collector of artist-drawn cards and produced a listing of all Salmon Watercolour and Salmon Fancy postcards whilst he was recuperating at one time. Quintin will send computer copies to anyone who requests a copy of the listing. I hear that Brian asked his wife, Doris, to continue his collection. We send Doris and the family our sympathy and Good Luck with the collection.
Bruno says "I hope you enjoy the postcard I bought when we were driving through Germany last year. These bears are at the Zoological Gardens in Berlin and the stamp on the back has a picture of Hitler on it."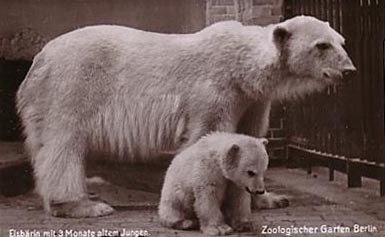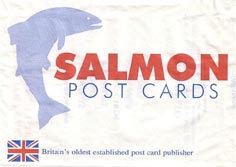 Click on the logo to return to the list of Salmon articles.