OCTOBER 2011
SALMON POSTCARDS AND THEIR ARTISTS
and other publishers - sometimes!
Unfortunately it looks to me that we are not going to be able to state anything we don't already know about the Banbury cards. To me it has all been a bit of fun hunting to find how many publishers in the area had the full set of six cards for sale. Recently we went to the Reading Fair and each dealer I asked "Who painted the Banbury cards?" replied A.R.Quinton, whereas at a previous Fair I was told ARQ never went to Banbury. Not that that means anything as he could have been asked to paint from a photograph. But it is still unusual that W.Carruthers did not have his name on the cards similar to the CTH cards which had both CTH and ARQ on those he finished. Maybe it is to do with the time lapse as the cards mentioned were produced considerably later than the particular one first printed in the latter part of the 19th century.
Last time I mentioned that some of you would like to know more of the "less common" ARQ cards - those that are difficult to find and those that may or may not be ARQs, etc. I think the group who are particularly keen on this search may get better success with Tony Longshaw in the Newsletter.
I received an email from Tony Affleck with scans of a calendar and a postcard. He wrote "I have recently acquired a calender for 1948 with the month pages still intact. The title of the postcard is "Old Interior" which I think is of Mary Arden's House and is by W.Carruthers. The number on the back of the calendar is G428. The doubt in my mind is that 3693, The Great Hall in Mary Arden's House, has the main support beam over the middle of the fireplace but in G428 it is over the right hand side of the fireplace. Also, the number of plates on the mantlepiece in the Old Interior would not fit on the other mantlepiece. Is there another large room in Mary Arden's House or is it from a different house?"
| | |
| --- | --- |
| | |
I thought it shouldn't be difficult to find whether the two rooms were in the same house or indeed, in different houses. However, this has not proved as easy as I guessed. I had a look at dealers' stocks of Mary Arden's cards at Bipex. Plenty to be found. Then I found the following Brief History of William Shakespeare on the internet - "William Shakespeare was born at Stratford-upon-Avon in a house in Henly Street. His mother was Mary Arden. At the age of 18 he married Anne Hathaway, who was seven years his senior. He endured her until he could stand it no longer and fled to London to become an actor." So we have two ladies with postcards of two homes. I have several cards of each lady's dwelling, but can't be positive about this beam which is in a different position on both cards shown below. Also, the two cards below are very similar to the two above BUT I have two cards which show a different position of the beam - one has a curtain hanging from it which goes behind the chair and the other has a long but slimmer curtain. There are other differences too. The beams are on the right, one curtain is wide, the other is narrower, the doors are not the same, one postcard has a pan in the fire area and the other has not, one has a stool, the other has not, the legs on the table are not the same, the courting chair is not placed in the same way, etc. etc.
| | |
| --- | --- |
| | |
For a while I felt fairly sure the two rooms were from different houses. But don't take my word for it. Tony's two are Mary Arden's cottage and mine (above) are Anne Hathaway's Cottage, which to me, means just that. I am not a person who has studied a lot of Quatremain cards. Tony's card reads "Old Interior" in Mary Arden's House, and both of mine read that one is the Best Room and the other is Chimney Corner, both pictures of Anne Hathaway's Cottage, so the various titles mean the pictures are from different cottages. I am afraid I have come to the end of my ideas - so now it is your turn - has anyone an idea whose house the beam on the right was in? Please write to Tony or me and I will forward the emails to him for the next website at the beginning of the New Year. I guess the Salmon people could have been very confused! I forgot to mention G428 is Salmon's calendar numbering.
I remember the first outing we went on which was WWQuatrmain at Stratford-on-Avon. It was very interesting, particularly some of the tit-bits we were told. One was that WWQ was a popular artist, many people enjoyed watching him paint, then they would order one picture and be told they could have it at the end of the day. But they had to carry it carefully because the painting was still wet!
Do any of you collect Bespoke cards? Here are a few which I hope you will enjoy. They do not have numbers because they have not been fitted into the Watercolour Series. They were painted by artists who, perhaps, did not wish to sell them to a printing company but they would like to have printed something like somewhere between 100 and 1,000. The first row shows three cards of Islay, an island off the coast of Scotland. I think they are very attractive and I hope you will like them too. I have a further few of the same area and I guess there will be 12 different cards when I have found them all. The titles are Paps of Jura from Portaskaig, Port Ellen from the Ard, and Paps of Jura from near Craighouse, and they have been painted by Alexander Cameron.
The next three are more Bespoke postcards. The first two are painted by F.A.Ross. Both have the words With Best Wishes on the front, the first having the title on the reverse - Dr. Barnardo's Homes: girls' village, Barkingside. The second one's title, again on the reverse is exactly the same. I have not been able to find anything about F.A.Ross, but perhaps one of you can help there. The third card has the following wording on the reverse - Coleridge-Taylor's Garden at "Aldwick," Croydon, Surrey, Eng., showing the Music Shed in which he scored "A Tale of Old Japan" and wrote his violin concerto, his "Hiawatha" ballet and several songs. All six Bespoke cards have been printed by Salmon.
Have you got your tickets for next year's Olympics? We have decided we shall watch all we can on the television. However, I did go in 1948. My father decided the four of us should go. So we went. No worry about getting tickets. We thoroughly enjoyed our day watching the sports and I took a few photos. It wasn't easy to get film in those days - not too difficult if you sent your film away for printing and they would return your printed photos of the negatives with a new film. So here are three of the photographs I took - two on that day and one of the marathon as the competitors passed through Elstree. I have memories of my father saying that the Americans won so many sports because they had a lot more meat than our competitors!!! The first two pictures are dated 31.7.48 titled The Olympic Flame and the 50,000 metres walk leaving the stadium The third card shows a competitor on 4.8.48 in the Marathon. p.s. I also won a raffle at the office where I worked and was able to take a friend with me to watch a football match.
This attractive modern postcard I bought to send to my Mother to let her know we had arrived safely in Bahrain. We know the queen is not a very tall lady, but here you can see her as taller than the Sheikh of Bahrain. There is no description on the card and I always thought it was when the Queen's plane made a stop in Bahrain while on her way to Australia for the Commonwealth Games. Now I am not so sure. She is wearing a tiara and I somehow don't think she would be wearing that in the middle of the night. The postcard shows our Queen Elizabeth with H.H. Sheikh Isa Bin Sulman Al Khalifa, Emir of Bahrain. It was published by Falcon Cinefoto of Bahrain and printed by Dominie Press of Singapore.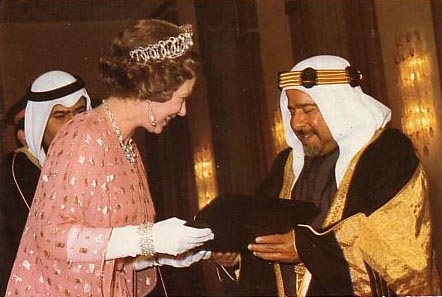 An A.R.Quinton with a difference
When your collection consists of most of the known cards finding one in the market at a reasonable price becomes an occasion of note. When it arrives it gets scanned and put into its allotted space. You then often wonder why it has been hard to find and/or is thought to be scarce and of a higher catalogue value.
Recently I acquired my first example of 2998; the fact that it was an oilochrome version added to the interest. Wayne Robbins lists 3 versions.
Cropthorne, Worcs. (obverse)
Cropthorne, Worcs. (obverse) Caption painted over.
CROPTHORNE, WORCESTERSHIRE (reverse). Caption painted over on obverse.
My card is the second version. The title appears to have originally been black and has had a yellowish colour applied to each word to blank it out.
Nothing surprising so far - but mine has a title on the reverse - WELFORD-ON-AVON, a village 10 miles away in the next county. You do not have to go far to find that ARQ has been busy. Salmon 910 has various versions of Welford-on-Avon, Gloucestershire with exactly the view shown on 2998 but it has been repainted with 2 ladies replaced by one and the horse and cart shown on Tuck 9533 has moved into the foreground. You might think that 2998 was an update of 910 but the 'era' has not changed. Where the Gloucestershire in the title of 910 came from I can't guess - it is in Warwickshire so is not a good picture to choose for the title Gloucestershire Cottages which is a good reason that it was sometimes blocked out.
ARQ 2998 title painted over
ARQ 910
Tuck ARQ 9533
Members of the Salmon Study Group visited Cropthorne on the first 'In the Steps of A.R.Quinton' in 1998 under the guidance of Peter Archer. He did not (I believe) show them 2998 because it was not a painting of that village. Whether the horse and cart on 911, 2998 and Tuck 9533 belongs to Cropthorne or Welford or is just one of ARQ's add-ons is anyone's guess.
It won't be long now until Remembrance Day. Do any of you have a relative who died during WWI or WWII that you would like to tell us about him. You can see my website of Gerald Blackmore who was drowned in his ship HMS Black Prince. Go to HMS Black Prince and you can read the website I wrote about 12 years ago. He was my mother's elder brother and went to join the Navy without any of the family knowing what he was up to. Apparently his mother (my grandmother) went to see the Recruiting officer and informed him her son was too young (15 yrs.). She got a promise out of them that he wouldn't be sent on active service, but when the call comes the lads have to go. My mother always said he shouldn't have died and I used to wonder why she thought that. Apparently during the fighting the Captain of HMS Black Prince was told by authorities to turn round and return to base. But he refused and was a sitting duck for the Germans to shoot at the ship and it wasn't long before every sailor aboard went down with the ship. (Gerald was 16 yrs. by then.)
Recently I bought the following postcard on eBay. It was described as no.1191 by F.E.Quinton and the title was "Clivedon Reach". However, Wayne Robbins quotes three of them as "Cliveden Woods" and Jack Whittaker also quotes it as "Cliveden Woods", as does Quintin. It seems to me that it is, perhaps, a painting by F.E.Quinton, which is not an update of ARQ's work, but an original painting of the same scene. Am I right?
Bruno says "The card I am showing you this time helps everyone to see how in the past bears were treated cruelly. Another thing that was done to one of my ancestors is he was killed so human beings in the Army could wear bearskin hats. I like to think we are much more civilised these days."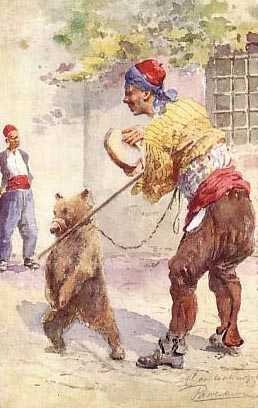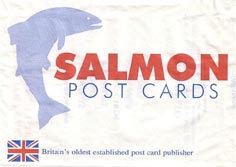 Click on the logo to return to the current website.