FRANK ERNEST QUINTON
Born July 1922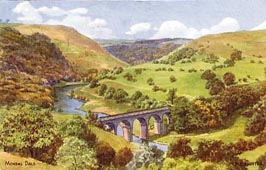 No. 4606 - Monsal Dale
Mr. F.E.Quinton is one of J. Salmon's artists, a relative of the well-collected A.R.Quinton. He is quite considerably younger than ARQ, born in the summer of 1922 in Kingston, Surrey and named Frank E.Quinton. In 1937 he studied Art at the Wimbledon College of Art but he was only there for two years because he was called up to join the army when WWII started. He was a Gunner in the Royal Artillery and spent some of his time in Italy. After the war he was demobbed and returned to his studies at the Wimbledon College of Art for a further two years from 1947 to 1949.
We were told that there was a painting and a sketchbook by FEQ at the Imperial War Museum in London. I wrote to inquire if these items were on display. They weren't but we could have an appointment to look at them. So we made an appointment and spent a day there. The building is old and huge. It used to be a hospital until 1936 and has since been completely refurbished inside. It is a most interesting place to visit, entry is free and I could recommend anyone while in London to spend a day there. Our appointment time arrived and we were taken to see the paintings.
The sketchbook was very interesting. It was a Reeves sketchbook, with pages of very similar size to early postcards. In it were 18 black pen and ink drawings. They were beautiful and full of detail. They were sketched during 1944 while Gunner Quinton was in Italy, local scenes he probably drove through or marched through. The sketchbook was titled "The Italy of 1944". They were lovely drawings of the Tiber, Rome, Death, Destruction, Diversion and showed minute detail. They weren't bloody war pictures at all although there were views of the time which showed dead horses or a damaged bridge which had been bombed in the middle - they were just lovely scenes a young soldier wanted to capture. A couple of pictures contained people; one of them quite crowded in a shopping area. I would have liked to take a photo of some of these pictures but I wasn't allowed. A pity because everywhere else in the museum you were permitted to take photographs and, although they plan to put it all on to a website in due course they don't anticipate doing this for a number of years yet. If only I could sketch I could have copied one, but I am afraid I don't have that talent!
We visited the Imperial War Museum in London one day to see some paintings he had done in Italy during World War II where he was serving. I wasn't very impressed with the watercolour painting but I enjoyed the small booklet which was full of his paintings in pen and ink. I imagine that it was fairly easy for a soldier to carry those small items in his rucksack. Unfortunately, I was not allowed to take any photographs.


Please click on the postcard to go to the sps page.