WILLIAM SMART RUSSELL
(1850 - 1930)
(Salmon cards 2335-2342)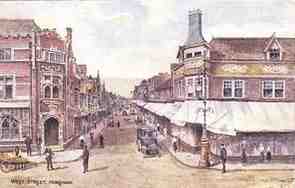 No. 2340 - West Street, Horsham

William Russell was the son of Julius Russell a Tea and General Grocer of West Street and Bishopric, Horsham. He was given his mother's maiden name of Smart.

In an article published in "Sussex Life" April 1977, Violet M. Pannett described him as a "forgotten artist of Horsham". She wrote that he was a talented painter in watercolour and oils. Miss Pannett continued "W.S.Russell had been given an appropriate middle name. Although short of stature, this slim, dapper little man with spruce moustache, neatly trimmed hair and well cut suits, presented a smart appearance as he darted between office and counter". He was known to take a keen interest in affairs concerning the town, was a popular member of committees, a keen businessman and an enthusiastic gardener.

Just after the end of the Great War W.S.Russell was commissioned by Salmon to paint scenes of Horsham and District and eight of these were reproduced as postcards.

No. 2335 St. Mary's Church, Horsham
No. 2336 The Mill Bay, Horsham
No. 2337 The Causeway, Horsham
No. 2338 Carfax, Horsham
No. 2339 North Parade, Horsham
No. 2340 Horsham
No. 2341 North Chapel, Horsham
No. 2342 Old Toll Gate House, Horsham

"A Dictionary of Neglected Artists between 1880 and 1950" by Jeremy Wood, art collector and Gallery owner, formerly of Petworth and now of Billingshurst, was published in 1994, in which he lists W.S.Russell.

Anecdotes of his life include colourful references to his second marriage, following the death of his first wife Caroline who died aged 45 in 1905. Annie Mary Gilbard or Gilburd whom he wed in 1909 became an alcoholic and to provide herself with funds to support her addiction, bartered with a local butcher, Mr Hoskin, to exchange her husband's paintings for steak! The descendants of his family now own several paintings, which were not part of the Salmon collection.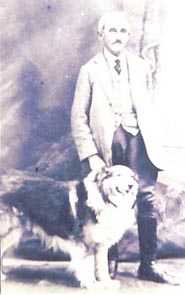 Photograph of William Smart Russell
taken when he was 49/50 years old.
About this time his father Julius died
and William inherited the family grocery business.
José Loosemore, a great-niece of W.S.Russell.
23-01-2007
For further information and copy of Sussex Life article, see S.P.S.G. Newsletters 6 and 7. Photocopy available from Tony Longshaw.


Please click on the postcard to go to the sps page.