W.W.QUATREMAIN
(1857 - 1930)
736 - Shakespeare's Memorial Theatre
635 - Shakespeare's Birthplace,
Stratford-on-Avon
William Wells Quatremain was born in Gypsy Hill, Upper Norwood, London on December 22nd 1857, the only son of William Jarrett Quatremain and Elizabeth (nee Wells). The Quatremains had their roots in Oxfordshire. His father died in 1867, and Elizabeth and her ten year old son moved to Stratford-upon-Avon, to be nearer to her sister, who was married to William Jarrett Quatremain's elder brother. They first lived at 45 Waterside, then 14 Old Town and finally in Sanctus Street.
It is likely that William was educated at home and that art was a major part of his education: both his parents had been amateur artists, and his cousin George Quatremain had a shop/studio in Stratford High Street, where he also practised taxidermy. One of W.W.Q's earliest paintings was recorded as on sale at George's studio in 1884. In 1888 he had his first one man show of Stratford paintings, which also included pictures of Warwick and Matlock. The local paper recorded that he had painted stage scenery at the Shakespeare Memorial Theatre for Sir Frank Benson, and he advertised tuition in painting. In 1895, shortly after his mother's death, he married the widow of J.T. Marshall, also a Stratford artist, and he and Elizabeth Marshall started their married life at 14, Sunnyside. He was listed in the marriage register as a bookseller, and presumably painted and marketed his work at the same shop. He was also a keen member of the Stratford Naturalists Society, and was elected Treasurer.
As Salmon spread their sales areas beyond the South East, firstly C. Essenhigh Corke was commissioned to paint some views of Stratford-upon-Avon for postcards. Legend has it that Mr. Salmon himself was selling these cards to shopkeepers in Stratford-upon-Avon in 1907, and met William in his bookshop/studio which also sold postcards. He saw some of his oil paintings and decided to commission paintings from him for further local postcards. The first card printed was 580, Guild Chapel and Grammar School, Stratford-on-Avon. William Quatremain also painted a series of pictures of Warwick and Kenilworth. Salmon received a special order from Frances, Countess of Warwick, who was seeking to exploit Warwick Castle as a tourist attraction, to produce twenty-four paintings of interior and exterior views of the castle. Salmon also printed a guide book for Warwick Castle and a family history written by the Countess.
Salmon were keen for Quatremain to travel the country to produce more and more views, a task soon to be undertaken by A.R.Quinton. He wanted to stay and paint and run his shop. However, possibly in 1911, he was persuaded by the Salmon family to join them on holiday in Torquay. This free holiday seems to have tempted Mr. and Mrs. Quatremain, but there was a condition that he took his easel and paints. This resulted in the production of cards 722 to 733. It is possible that 1372 to 1378 were also painted at the same time, but had been held as a second batch after the first dozen. He went on holiday again the following year to the Isle of Wight and seems to have gone to a number of resorts (cards 770 to 781). Corke had been there previously, and of course, A.R. Quinton also painted many pictures on the island.
William Quatremain could not be prized away from his beloved Stratford and continued to produce local views until his death in 1930. There was, however, one final painting "holiday". He had obviously been impressed by 'Daisy', Countess of Warwick, in the time he spent painting in the castle, and she admired his work greatly. When she was divorced she moved to her family home at Easton Lodge in Essex, and again had hopes of developing it as a tourist attraction. William was the obvious choice to do the paintings of the house. Cards 3425 to 3429 and 3440 to 3442 were the result. She also chose another Salmon artist, Annie L. Pressland to paint garden scenes (3430 to 3439). Some of the works of both artists are still on sale as continental size bespoke cards at the Easton Lodge park today (5-02-12-01 to 12-06 and 12-26).
This was probably William's last major commission for Salmon, and he died a few months after his wife, on March 3rd 1930. It is worth noting that his period of work with Salmon coincided with A.R.Quinton, but they were not really rivals, and William's work in oils complemented A.R.Q's watercolours. His paintings may have lacked the detail of Quinton, but some were of real quality. I remember Trevor Cleaver telling us on our first outing, "In the steps of W.W.Quatremain in Stratford-upon-Avon" that he was a particularly quick painter. There are stories that on occasions a visitor to his shop at the start of a day trip, might admire a particular picture, only to be told that it was already sold, but that if he came back before he returned home, he could have a near identical copy. Visitors had been seen dashing for their excursion train clutching a still wet canvas.
Main source - Mr. Quatremain's Stratford by Patricia MacFarland, published by A.P.M. Bird, Herald Press, Stratford-upon-Avon, 1990. ISBN 0 9516828 0 6 Price £7. I am also grateful to Jack Whittaker for references to his list of Salmon artists, and particularly to Trevor Cleaver, our former Research Secretary, who led our first outing so brilliantly in 1996.
Tony Longshaw, December 2006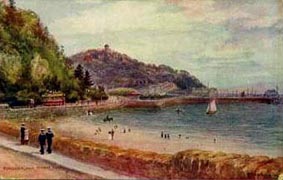 Please click on the postcard to go to the sps page.